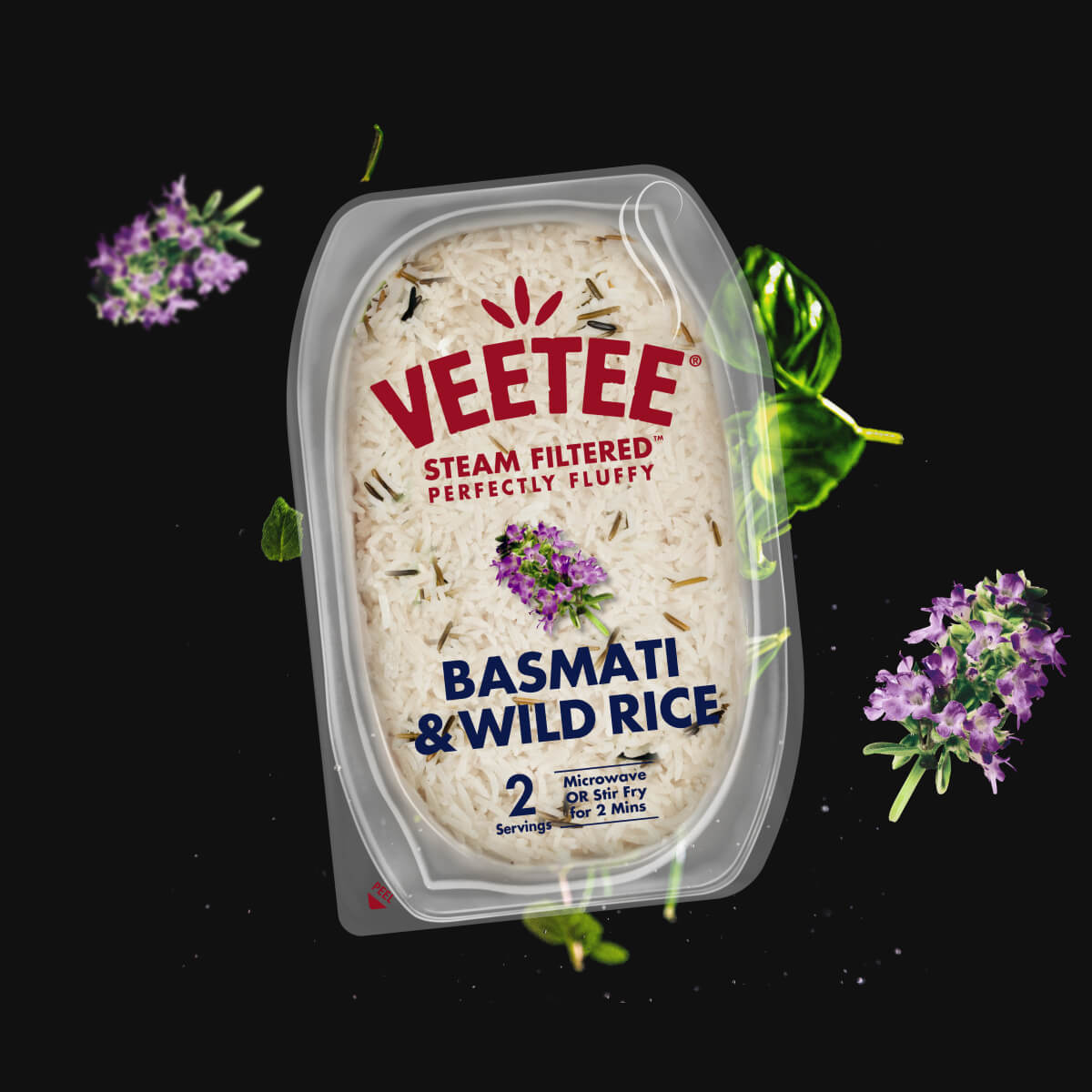 Rice Trays
Basmati Wild.
Uniquely Steam Filtered for fluffiness

Veetee trays are widely recycled

It takes just 2 minutes and can be stir fried or microwaved.
VeeTee Basmati and Wild combines aromatic basmati with the nuttiness of black wild rice. Basmati is known for its fragrant taste and smell, traditionally used in Indian cuisine. Did you know, it can only be grown in the Himalayan foothills of India and Pakistan? It's got the same region rules as champagne. Fancy.
Wild rice comes from a different grass species than basmati. It's mostly grown in North America and has a nutty flavour, varying in colour from medium brown to jet black.
Is Basmati and Wild rice healthy?
Yes! Per serving it's less than 200 calories and it's just 2.8g of fat, 0.4g of saturates and 0.2g of salt.
Steamed Rice (Water, Basmati Rice) (97%), Sunflower Oil, Acidity Regulator: Glucono Delta Lactone, Salt.
How do i cook it?
Wild rice can take up to 45 minutes to cook – but with VeeTee, it's easier and quicker. It takes just 2 minutes and can be stir fried or microwaved. Easy peasy.
For best results microwave:
1. Pierce film several times, microwave on full power CAT E – 800W for 2 minutes. Microwave ovens vary, adjust cooking time accordingly.
2. Peel back film, fluff in the tray & check the product is hot before serving.
Stir-fry method:
1. Add a little vegetable oil to a wok and heat.
2. Peel film back halfway. Add the rice to the hot wok and break up.
3. Check the product is hot before serving. Do not re-heat.
Steamed, Not Boiled
Tasty Goodness
Over 5 Varieties
Perfectly Fluffy Rice